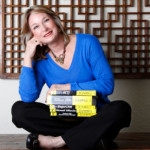 Hi.  My name is Karen Fredricks and I'm the owner of Tech Benders.  My goal is to take fairly complex business practices and make them so simple that even a dummy could understand them.  In fact, I'm so good at what I do that I've written eleven For Dummies books for Wiley Publishing.  In 2009 I was contacted by lynda.com to create the ACT 2010 Essential Training course.  Most recently I have written two ACT "Cook Books" illustrating the more advanced features of ACT 2012.
I specialize in taking the chaos of a typical business and developing systematic processes to make them more efficient, organized – and profitable! I also sell ACT software at very discounted pricing.
I'm not sure which is more difficult – naming a child or naming a business.  I chose the name "Tech Benders" because I like to think that we bend technology to best suit the needs of your business rather than having to mold your business to fit a piece of software.  I can't think of another organization that offers as high of a level of expertise as Tech Benders.  Only very special people can work for Tech Benders and that's why I chose Roy and Kim.  Each of us brings a unique skill set to the table – Roy is the ACT Report Guru, Kim is the ACT Database Repair Guru and I am the CRM Guru!
I began my life rather non-technically growing up in Kenya where my dad served as the Minister of Agriculture.  I attended high school in Beirut, Lebanon which helped me develop a sense of humor while dodging bombs and having some amazing adventures.  Having traveled all over the world I ended up at the University of Florida and have been an ardent Gator fan ever since.  I have degrees in English and Accounting, and a Master's degree in Psycholinguistics.  I began my career teaching high school English and Theatre.  I began working with PC's during their inception in the early 80's in Boca Raton and have worked full-time as a consultant and trainer ever since.
In 2002 Wiley Publishing contacted me to write ACT! 6 For Dummies; they were impressed with both my knowledge of ACT! and my humorous writing style.  The book proved to be so popular that I was asked to write four more books on ACT!. Prior to the launch of Office 2007 Wiley asked me to write three books on Microsoft's new software: Outlook 2007 , Outlook 2007's Business Contact Manager and Microsoft Office Live.  Because of my expertise in any and all things related to contact management and CRM, Wiley asked me to write a book on SugarCRM bringing the total of my books to eleven.  I love writing the For Dummies books because they offer concise, easy to follow instructions – and mirror my own method of consulting!
I can be reached by e-mail or by calling 561-470-5450, Ext. 1.