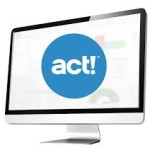 Click Here to Register for the next meeting of the Virtual Act Users Group
We will be holding the next meeting of the Virtual Act! Users Group on Tuesday, September 20, 2016, from 12:00 PM. to 1:00 PM. EST. The event, sponsored by Tech Benders, will feature a presentation demonstrating the usage of the new Web API feature found in Act! v18.  The webinar will be conducted by Karen Fredricks, the Act! consultant who wrote the book (actually 7 books) on Act!. Admission is free and includes a recorded copy of the presentation and a copy of the presentation slide deck.
Prior registration is required; Click Here to register.
There are so many cool things you can do with the new Act! Web API feature.  With the Act! Web API Act! users will be able to connect their Act! databases to literally hundreds of online applications including Slack, WordPress, EventBrite and GoToMeeting.  Best of all, it is amazingly easy to utilize such a powerful Act! feature.  Act! users will be up and running in minutes without having to spend thousands of dollars for additional IT support.
For further information, contact Karen Fredricks of Tech Benders at 561-470-5450, Ext. 1. Click Here to register for the event.